Compulsory Basic Training
Compulsory Basic Training (CBT) is legally required for anyone wishing to ride a motorcycle or moped on public roads.  It is not an exam, it is a course of training you are required to complete satisfactorily. It is a basic course in motorcycling, however you must show a safe level of competence while on the public road for the last element of training. CBT is designed to be helpful, and not obstructive, and will give you a good start to your riding.
The course is conducted at weekends by the Jersey School of Motorcycling Ltd who are approved by the Driver & Vehicle Standards Department (DVS) as the sole provider of CBT in Jersey. Below we have listed some of the more commonly asked questions relating to the training we provide.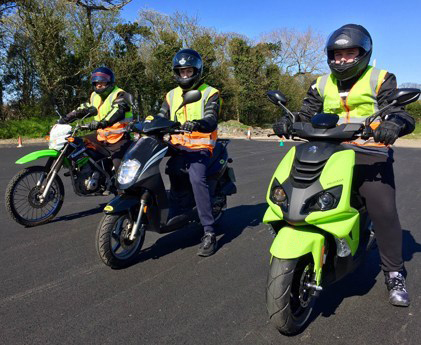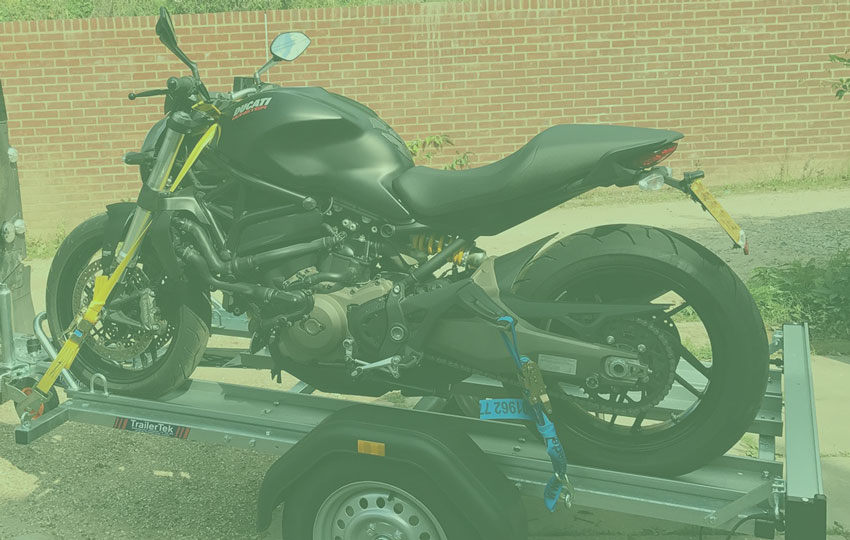 Transportation for your bike to the CBT Course
We are able to provide transportation for students own bikes to and from the CBT course if it is required.
If you would like to arrange transportation for your own bike please contact Matt Coote on Tel: 07700326326
Important Information
What should I read before attending the course?
As Jersey has agreed a reciprocal licensing agreement with the UK and the EEC, all standards have to be the same. You will therefore need to read and understand the "Jersey Highway Code", (available from your Parish Hall) and the "UK Highway Code" (available from book shops), to cover the sections relevant to the U.K. eg motorway speed limits etc.
The Jersey Highway Code is only a small leaflet stating rules that are not the same as the UK.  You must also make sure you read and understand the UK version which is also available online at www.direct.gov.co.uk
"The Official DSA Guide to Riding – the Essential skills", (available from bookshops and some motorcycle dealers), should also be read. If you are riding an automatic machine you will also need to know about riding geared motorcycles. You should read and understand the owner's manual relevant to your machine. If you have a second hand machine with no manual one can easily be obtained from your motorcycle dealer.
Finally, take a look at the "Learning resources" section on this website.  There are practice theory questions and diagrams and explanations of the safety procedures required at roundabouts, merge systems and the turning sequence.
Can I take my theory test with DVS before I do my CBT course?
Yes as long as you have a provisional licence.  To apply for a Provisional Licence contact your Parish Hall.
What should I check on my motorcycle?
Please note that it is now compulsory for mopeds and motorcycles to undergo an inspection if they are aged 3 years and older. Please read this information on the Government of Jersey website for more information. You will be required to verify that your moped or motorcycle has passed inspection if it is aged 3 years or older.
Your motorcycle must be roadworthy and must be equipped with the following:
• A right hand mirror fitted (although two mirrors are strongly recommended)
• A full tank of fuel and oil
• A current insurance disc (WID) fitted to the machine and clearly visible
• A rear number plate with integral L-badge
• Indicators and lights must work
• A working brake light from front and rear brakes
• A legal speedometer showing mph
• A working horn
• Effective brakes
• Self-closing throttle
• Road legal tyres with correct tread depth and inflated to correct pressures (pressures found in your owners manual)
• Chain properly adjusted and lubricated (refer to owners manual)
• Good sprockets without worn teeth
• An approved silencer
Make sure you arrive early (at least 20 minutes before your course is due to start) and be ready with all your documents to sign in.
It is a long day and there is a lot to take in and learn so come with a good attitude and be prepared to listen, ask questions and have some fun!
It is important to realise not everyone gets through first time and if you have not met the required standard then additional training will be arranged at a cost of £65.00 for a full day or £55.00 for an on road section. Your Instructor will advise you which you require.
Where is the course held?
The course is held at Gate 3, Bellozane Valley, St Helier.
What will I need to bring for the course?
A safety motorcycle helmet in good condition with a clear visor or goggles conforming to current regulations and which is a proper fit for you. We do not reccomend using a second hand or used helmet.
A Roadworthy Motorcycle (With tyres inflated to correct pressure and as a minimum a right hand mirror). Please note that it is now compulsory for mopeds and motorcycles to undergo an inspection if they are aged 3 years and older. Please read this information on the Government of Jersey website for more information. You will be required to verify that your moped or motorcycle has passed inspection if it is aged 3 years or older.
Window Insurance Disc (WID) fitted to the bike
An Integral L-badge Number Plate, fitted to the bike (unless the rider holds a valid full licence for that category of machine)
Insurance certificate
Provisional Licence or full licence if valid for riding a 50cc moped.  Make sure it is the correct licence for the bike you want to ride, e.g. "P" Licence for a 50cc and "A1" Licence for a 125cc machine
Vehicle Registration document
A signed letter of consent and a copy of the vehicle registration document if you are borrowing a motorcycle
Spectacles / Contact Lenses (If worn normally)
A full tank of fuel and oil if your bike is a two stroke
Something for lunch to eat and drink there will not be time to go to a shop
What should I wear?
A Protective Jacket
Proper motorcycle Gloves
Suitable footwear with ankle protection (Trainers not suitable)
Sturdy trousers, e.g. ideally, protective motorcycle trousers or jeans.  Not shorts or nylon based, e.g. tracksuit bottoms
Waterproofs (optional)
What does the course cover?
The CBT course syllabus consists of 5 elements. You will only progress onto the next element when you have demonstrated that you have learned the necessary theory and demonstrated the practical skills to the expected standard level within that element.
The elements are:-
1. Introduction – to instruct trainees basic theory surrounding motorcycle safety and hazard perception.
2. Practical on-site training – to assist trainees to familiarise themselves with their motorcycle, how it works, its controls and how to carry out basic maintenance checks.
3. Practical on-site riding – conducted in a safe, enclosed environment and is designed to instruct the trainee on how to handle, ride and fully control their machine in various simulated situations.
4. Practical on-road training – a comprehensive discussion about riding safely on the road to ensure that trainees are fully aware of the legal requirements, the rules of the road, and the need to ride defensively.
There will be a multiple choice theory test before going on the road.  Failure to pass this will mean not going on road.  A further £55 will be charged to retake the on road session the following week.
5. Practical on-road riding – candidates will be required to put into practice the skills that they have learned during the four previous elements. For safety, candidates are kept in contact with an Instructor via radio headsets.
Address for your CBT course:
Gate 3
Bellozane Valley
St Helier
Note:  please arrive no later than 20 minutes before your course start time.
Can I ride home as soon as the course has finished?
Providing you have met the required standard you will be issued with a CBT certificate. This will validate your existing provisional licence and enable you to ride unaccompanied with immediate effect.
Does CBT enable me to take a pillion passenger?
No, you cannot take a passenger whilst riding on an 'L' plate under any circumstances. You will need to pass your theory and practical tests with DVS first.
How long does the CBT certificate last?
The CBT certificate is valid forever but you must attempt your (DVS) practical test before your Provisional Licence expires, (6 months from the date of issue). If you do not attempt a test within this time, renewal of your Provisional licence will be refused for one year. This would also affect an application for a car licence. Please note duplicate CBT Certificates can only be issued by DVS (Tel: 448600).
Do I have to do a separate CBT course for an automatic and a geared motorcycle?
No. Once you have successfully completed your CBT you are legally allowed to ride any motorcycle, which your licence permits.
IMPORTANT NOTICE FOR SAFETY OF STUDENTS AND INSTRUCTORS
Any student who is deemed to be in the at risk/vulnerable groups should seek medical advice before attending CBT training. This includes persons who have pre-existing medical conditions such as compromised immune systems, cardiac problems, lung disease, diabetes or who fall within in certain age categories. For more information regarding these categories please go to the Government of Jersey website -> HERE. 
The JSM will be requesting any students who have shown any symptoms of Covid 19 in the preceding 14 days prior to their CBT to not attend and to reschedule their dates until they have recovered or have received a negative Covid-19 test diagnosis.
Students attending will be asked during the booking in procedure if they have exhibited any symptoms during the last 14 days. Any student attending the course who exhibit symptoms such as coughs, sneezing or show signs of fever will be asked to leave the premises and will have to rescheduled to a date when they have recovered or who have received a negative Covid-19 test result.
Jersey School of Motorcycling
Gift Vouchers available
Our Gift Vouchers make ideal gifts for loved ones
or friends who are looking to take their CBT
Our Gift Vouchers make ideal gifts for loved ones
or friends who are looking to take their CBT
Question about booking your CBT?
Give us a call.
Sign up to our Newsletter
(We do not share your data with anybody, and only use it for its intended purpose)